A "life story" lived with the students of the Manoleasa Gymnasium
The meeting at the Manoleasa Secondary School
from Activity 3.4. Providing anti-discrimination education, active citizenship and the promotion of successful models for children and youth at risk of dropping out of school and/or learning and psycho-behavioral difficulties
My educational experience (Lecturer Dr. Marius Eși [1]) augmented through my participation as a trainer-expert providing health education in the project "Integrated children and youth for a better world", financed by the call "Inclusive education for children and young people at risk" and implemented within the Local Development, Poverty Reduction and Enhanced Roma Inclusion Programme.
I say that my experience has become richer precisely because I want to reproduce some of the facts and events that took place in the framework of such an educational endeavor. From the very beginning of the meeting, when the 4th graders, my future students for a few hours, were introduced to me by their distinguished teacher, and when I felt a flow of positive energy that would last until the end the meeting.
The place of the meeting was a deeply spiritual one where the Romanian tradition is at home in all its forms: rural time and space, language rich in regionalisms pleasing to the ear, very good communication from all those involved, a beautiful simplicity and a specific wisdom.
From the very beginning of the lesson, my new students proved to be true educational detectives. They were staring at me and scanning me, at first with some curiosity, a slight panic (because their teacher had been gone for a few minutes), but at the same time, eager to know and learn more from me and even about me.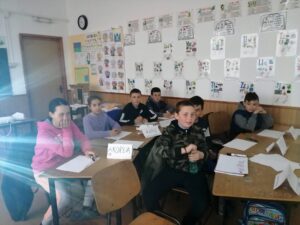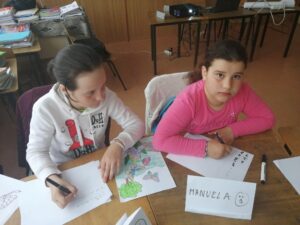 I briefly told them who I was and explained why I was with them at that moment. I spoke to them calmly, with a smile on my face, and during the speech I made another joke, well controlled by me (another subtle moment of breaking the ice), so that I could slightly attract their attention and, why nay, to relieve them of the slight tension and anxiety arising from the fact that they were at that moment face to face with any other than their lady teacher. As I was talking to them, I noticed how their faces showed smiles, they started to giggle, to laugh, to feel good.
After this first step, I moved on to deepening the previous phase, an interpersonal knowledge exercise when I asked them to write their name on a piece of paper and display it on the bench. Then I asked them to introduce themselves, tell me their name, who is their best friend, if they like school, what is their favorite subject, etc. I don't want to tell you how eager for communication they began to become at that moment and how much they began to tell me about themselves, about school, about their joys. Every time someone spoke I made sure to reward them with a smile or a "Bravo!" full of encouragement and joy. They almost always responded the same way with a smile or a giggle as confirmation that they were feeling good.
Slowly, slowly we moved the discussion towards what was to be the purpose of our meeting, namely a discussion of the ideas of discrimination and anti-discrimination. I was pleasantly surprised to find that some of them were trying to answer my questions about the idea of ​​discrimination. I noticed that on an intuitive level they knew what it was about, they just needed, perhaps, a confirmation, some additional explanations. The surprise was all the greater given that none of these children previously knew what topic I wanted to discuss with them.
After about 5 minutes of discussions, questions and nice and interesting answers from them, I told them that I want to make some teams together so that we can play better. I gave them some colored pencils, crayons and sheets of paper and told them that we would draw and write together later after I wanted to show them two animated videos about discrimination.
Throughout watching the videos, I noticed that my new students were very attentive so that later they successfully coped with the discussion. So, after watching the videos we tried to discuss together the main idea about the message. I want to tell you that I didn't even get to formulate the question because my students were raising their hands asking me to let them answer, the raised hand being completed at that moment with the request expressed verbally, "I say!", "I know!" "I want to answer!" s.a.m.d. They were eager every time to answer, to communicate, to talk with me, to explain, to show me what they understood.
I was assaulted, overwhelmed, conquered by their personality, their way of being.
My intervention consisted in the fact that I confirmed most of the answers they gave me, at the same time explaining to them what they saw in the videos. Thus, I tried to explain to them what gender discrimination means, or social status discrimination, discrimination in social life or concepts such as discrimination and anti-discrimination, equality, respect, help, tolerance, kindness, etc.
The second phase then started with team work. Thus, I asked the students to try to draw together what they understand, what they imagine by the idea of ​​discrimination or discrimination. I also recommended them to try to recall images, facts, words, sayings from the videos they saw. And this time I analyzed them very discreetly, sometimes I gave them little advice, suggestions regarding the task they had to perform. I really enjoyed seeing how they talked together, how they drew and colored together, but also how they laughed together.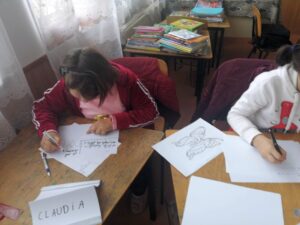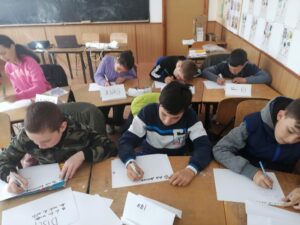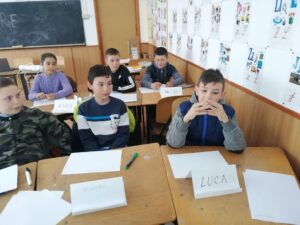 After the time was up, each team presented their drawing in front of the class. Also, one of the tasks was for each member of each team to say a word or a sentence related to the given task, to the ideas of discrimination and anti-discrimination. Every time one of the students finished speaking, everyone else applauded as a form of reward. Also, at the end everyone cheered for each team.
The third phase of the didactic activity took place with an active learning method in the center of attention, namely the role-playing game. The three teams were tasked with imagining a discrimination/anti-discrimination situation and presenting it physically. Such a concrete and playful approach was a real success because the little ones like to play, to imagine all kinds of situations. And this time, after the well-deserved applause and after the smiles and joy of the task well accomplished, we moved on to the last stage of the didactic activity.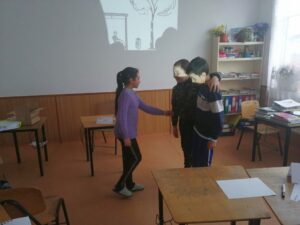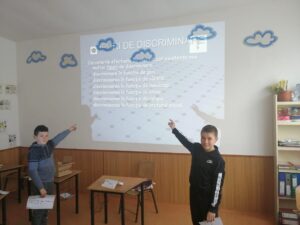 The fourth phase consisted in concretizing a moment of feedback. Thus, he asked the students to remember what they discussed and what they remembered after the activity. And this time the answers were up to the mark, the students doing very well.
The activity made the time compress and the joy remained on everyone's faces. At the end of it, we all enjoyed a very good and tasty ice cream, parting with handshakes, with a slight regret and with the hope of an equally beautiful and pleasant reunion in the future. There would be much more to say about such an educational approach, beyond the emotions felt by each participant.
I can only say that I met some wonderful children full of life, restless in the good sense of the word, eager to know, to color, to communicate. They always tried through the behavior they displayed to express themselves in a personal way, to show what they did, what they know or what they learned during the activity carried out. It is certain that the education of children is like a flower, a flower that always needs to be watered, sprinkled with a lot of care and affection, so that it is pleasing to the eye whenever it is looked at. Let's not forget that education can only be perfected and transmitted through the children we always have close by, beside us, as educators, because, basically, they teach us how to laugh, smile, enjoy everything moment in our own lives.
Suceava, 11.04.2022
[1] Marius Eși is Lecturer in the Psychopedagogical Department of the Faculty of Educational Sciences, "Ștefan cel Mare" University in Suceava, with over 12 years of experience and teaches subjects such as: Didactics of the specialty, Didactics of the field and development in the didactics of the specialty, Pedagogical practice.